Messages

11
Reaction score

0
Points

1
Dolphin Anty
is an excellent antidetect browser that can help you easily manage multiple accounts with virtual browser profiles for marketing online, such as Google ads, Facebook ads, Tiktok marketing, also support teamwork and processes automation. As one of popular proxies providers online,
YiLuProxy
provides 90M+ dynamic residential IPs from 200+ countries, has get lots of integration questions about integration of YiluProxy with Dolphin Anty. So we write this article about how to easily manage multiple accounts of the same platform at the same time by using Dolphin anty browser and YiLuProxy on only one device.
Part 1. YiLu Proxy Settings

1. General Client Setting .
Proxy port:
random or custom port, such as 1080;
Bind address:
Generally it is "127.0.0.1" ;
Proxy Engine Settings:
Get "Other Proxy Tools";
Proxy Rules:
select the second and fourth proxy rules.
Then
save
the settings.
2. Local port forward
.
Right-click to select an IP and click "Connect" or directly double-click to get the IP connection in server.
3. Multi-port forwarding
.
For YiLuProxy static IP or dynamic IP addresses, right-click an IP and select a proxy port for ip connection.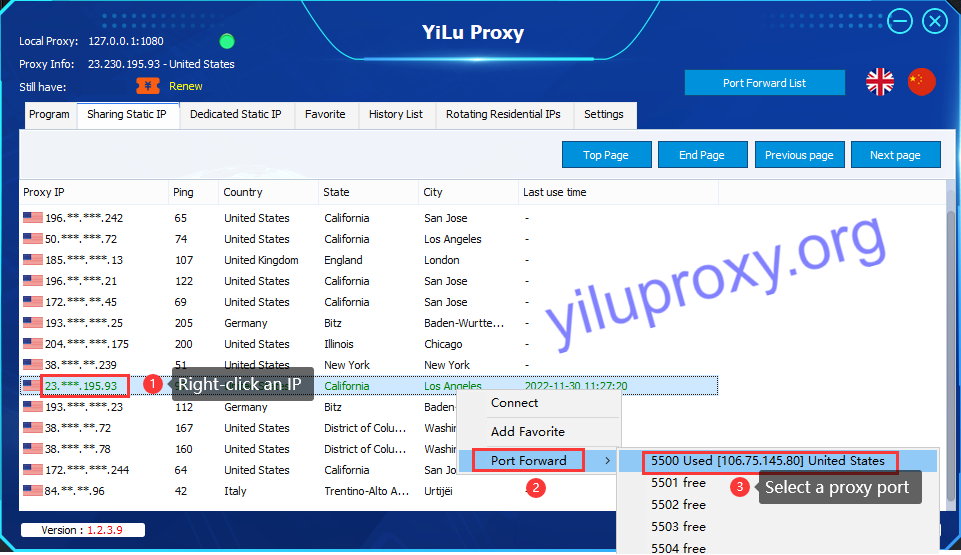 Part 2 Dolphin Anty Browser Settings

1. Register an account and download
Dolphin Anty browser on its official website: anty.dolphin.ru.com/en/
2. Click "Create Profile"
for adding a new profile.
3. Enter profile details
, such as profile name: Yiluproxy, operating system: Windows, platform: Facebook.
4. Proxy
information setting.
Choose " New Proxy" in the middle part;
Get Proxy Type: Socks5;
Proxy IP and Ports: 127.0.0.1:1080; (5500 or 5501 is also available, depends on Yiluproxy Ports Setting as before.)
Lastly check the proxy ip after click -><-.
Details listed as following screenshot:
You can also
copy
a YiLuProxy
dynamic IP information
to set proxy.
a.
Select rotating residential IP or datacenter IP;
b.
Select a country, state, and city;
c.
Select IP information format: IP, Port, Username and Password;
d.
Set the number of refreshing IPs;
e.
Click "Refresh";
f.
Right-click an IP and click "Copy IP and Port".
All listed as below screenshot: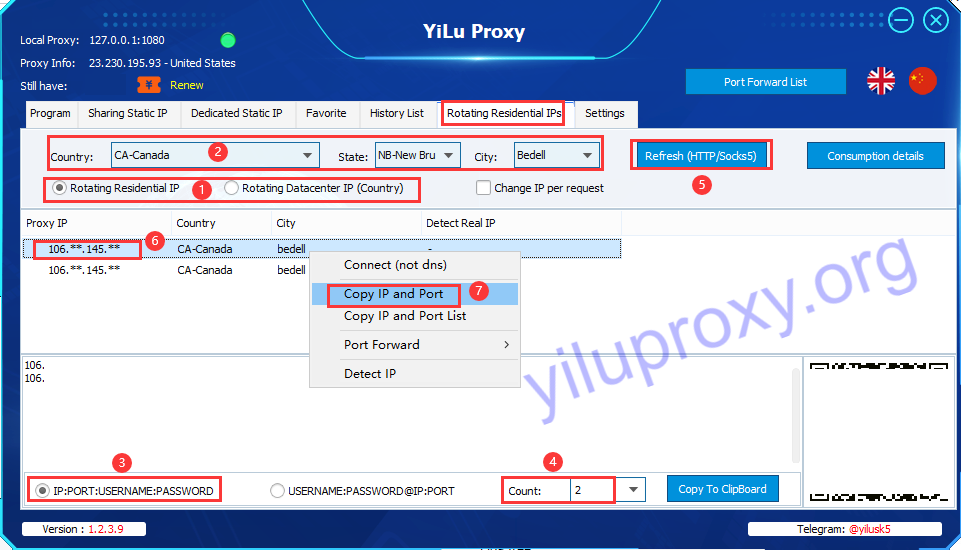 Then
paste
proxy IP, Port, Username and password into Dolphin Anty browser and
check the proxy
as below screenshot:
5.
Save and run
the browser profile.